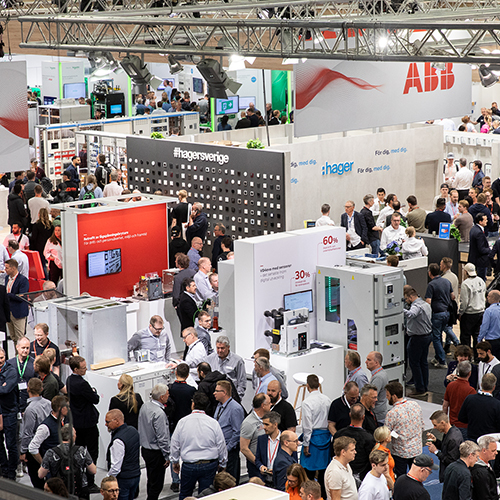 More than 22,000 visitors and a packed programme – Elfack's comeback after the pandemic was an undoubted success. But it was also a reminder of the speed of technological development. "Update by Elfack 2024" is therefore now being launched to make it possible to meet at shorter intervals.
Because of the pandemic, it has been four years since Elfack last took place. And if there was one thing that characterised this year's fair, it was the joy of all involved in finally being able to meet up again.
– There has been such energy, such joy and a very clear business focus among both exhibitors and visitors, says Anna Jarnö, business manager for Elfack at the Swedish Exhibition & Congress Centre.
– After the pandemic, many meetings have been taking place digitally and this is a great opportunity for all of us. But sometimes you have to meet in person to find solutions and do business. It has become clear in recent days that Elfack continues to be of great importance to everyone working in this industry.
The number of visits to Elfack 2023 totalled more than 22,000.
– We are back at the same level as in 2019, and at times the exhibition halls were so crowded that it was difficult to get through. More importantly, the exhibitors are testifying to an increase in quality, i.e. the right companies and the right professionals chose to visit this year's Elfack.
Relevant product areas set the tone for the event
At the same time, there are differences compared to 2019, not least that several new technology areas have grown in importance in recent years. Solar energy, charging infrastructure and energy storage attracted many exhibitors and visitors this year. Hydrogen has also moved onto the radar, with several seminars attracting large audiences.
– We are constantly working to monitor the industry and see where it is heading in order to have the right focus in the programme and for visitors to be able to find what they are interested in. The base is of course fixed, but things are developing fast and as an event we need to be able to reflect this. From my perspective, one of our most important tasks as organisers is to combine the established with the new, to try to see what is happening around the next corner and where the industry is heading, Anna explains.
Exponential technology development paves the way for a new event
If there's one thing that's really noticeable in a survey of the world right now, it's that technology development is moving at a rapid pace – exponentially rather than linearly. While this is exciting, it also makes it challenging for those working in the industry to keep up to date.
– A lot can happen in the two years that pass between two Elfack events. To fill that gap, the Swedish Exhibition & Congress Centre is launching a new meeting place: Update by Elfack, which will be organised as a mid-year event.
– Update by Elfack will highlight the latest technology, knowledge and expertise, and will offer a place for dialogue, meetings and inspiration in even years. It will be a smaller event focusing partly on technology development and partly on current issues. It's quite simply a way of keeping up to date in the years when we don't organise a full-scale Elfack, Anna says.
The goal is for Update by Elfack to be a relevant window for the industry's various players, where authorities, companies and visitors can meet and exchange knowledge over two days.
– Our driving force is to enable many people to learn more, and the launch of Update by Elfack has really received a thumbs up from the industry. We feel that we have great support in this initiative and look forward to meeting many of our visitors in May 2024.
You can find out more about Update by Elfack here »