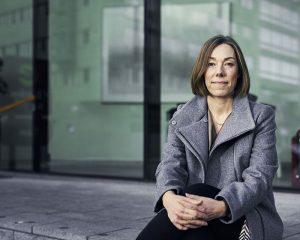 "The electrification of society shows that we are at the forefront. It can attract companies here, increase growth and create new jobs." So says Pernilla Winnhed, CEO of Swedenergy – Energiföretagen Sverige. At the Power Circle Summit, she will set out her view of the opportunities and challenges.
The afternoon begins with a couple of searching questions from Pernilla: How can you build the future digitally and partially decentralised energy system in such a way that it frees up resources for the changes in society? How do we increase supply and capacity?
Swedenergy recently presented its own roadmap to a fossil-free society in 2045.
"In this roadmap, we point out that electricity consumption will increase very significantly. According to our analysis, electricity consumption will increase by 35%, from today's 140 TWh to 190 TWh," Pernilla Winnhed explains.
She sees great potential in energy conversion.
"Electrification itself is a fantastic opportunity, it means that we can reduce CO2 emissions and also get cleaner air in our cities. In addition, it influences the image of Sweden," she says.
The fact that we are far ahead in business and technological development creates growth in itself: "We already have a very attractive and almost fossil-free electricity system. As we electrify more and reduce the entire society's climate footprint, new industries are attracted to Sweden. We can see that already today. But there are also challenges," she notes.
Not least on the educational level. It is difficult to explain why we need significantly more electricity when Sweden has a strong surplus and in 2019 exported 26 TWh. Another challenge she wants to discuss is the consequences of the electricity system of the future, which will be increasingly based on volatile production, i.e. electricity from wind and solar.
"Since they depend on the weather conditions, increasingly flexible solutions are required. We don't have the advanced technology, control and storage options for this yet.
"The challenge lies not only in generating electricity, but also in the ability of electricity grids to deliver electricity where it is needed when the usage patterns change."
She thinks about the transport sector and expanded electric roads. But also what happens when big industries change to fossil-free.
"That discussion gets too little attention, I think."
Still, she is basically an optimist.
"I think we can get it together. But we must cooperate across borders. We need to join up and get a common view of what is needed.
"If we do not succeed in this dialogue between all of the actors, the conversion will lack momentum and proceed far too slowly. Many knots need to be untangled, she points out: from licensing processes that need to be accelerated to intensified research and technological development.
"The dialogue between those planning social development, at the local and national level, and the companies that will deliver the infrastructure, is very poor at the moment.
"That's why I welcome the Power Circle Summit. These types of gatherings that bring the community's various actors together are great. We need to talk to each other more," she says.
The Power Circle Summit is an annual conference for thought-leading actors on the energy needs of the circular society of the future. Decision-makers, innovators, entrepreneurs and strategists meet to form a knowledge circle of shared insights – through seminars, discussions and interactive workshops. With a clear focus on the disruptive forces of new technology and changing opinion, the Power Circle Summit aims to be the leading think tank of its kind in the Nordic countries.
The Power Circle Summit will take place at the Brewery Conference Centre (Münchenbryggeriet) in Stockholm on 5-6 May 2020. The event will be organised by the Swedish Exhibition & Congress Centre together with the Swedish Energy Agency, Power Circle and InnoEnergy. In odd years, the conference is held in parallel with Elfack, the Nordic region's leading meeting place for the entire electricity and energy sector.
More information about the entire program and the registration at www.pcsummit.se