"What can we do to increase safety in unsafe work environments and how can we eliminate physical presence during hazardous operations?" – these were the initial questions for ABB's feasibility study on safety in, among others, the mining industry. A feasibility study that was launched seven years later and resulted in an award-winning collaboration.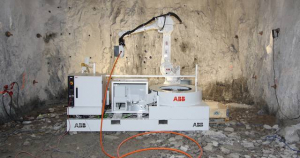 Sturdy men with helmets and carbon-black faces are for many the image of miners, but nothing could be further from the truth – at least in the case of the Swedish mining industry, which has long focused on both safety and environmental issues. Now one of the last manual operations has been automated by loading explosives with the help of robotics technology. New needs arose during the work to automate the explosive charge.
– A little way into the project, we wanted to change the camera and upgrade our "vision system". We started to look internally at possible resources, and then the start-up company Univrses was quickly presented to us as an alternative. Univrses helped us verify our intended solution for a new camera and then we chose to test their technology for image processing, says Roger Ågren, project manager at ABB.
Univres and ABB's own accelerator for start-ups, SynerLeap, got in touch with each other through Ignite Sweden1. With Univrses' solution and ABB's robot, the boreholes are identified automatically, and explosive charges are injected without the need for a  physical human presence. After blasting, new holes are drilled and the process continues. This makes work safer, the process smoother and the work environment more attractive. The first test was done in 2019 in Boliden's mine in Garpenberg. The world's most productive underground zinc mine has thus taken a big step forward. A video of the test shows how it goes:
The result of this joint effort by the two companies has already resulted in a commercial collaboration being initiated, and what's more, Univrses won the 2020 Commercialisation Award for its work.
– This is a big step for us. Receiving this award is a real recognition for the work we have done. Getting a commercial project with a company like ABB is what start-ups dream of. Collaborations between start-ups and large companies are very important for both parties. We are of course incredibly happy that the project went so well and that we will continue to work together with ABB, says Jonathan Selbie, CEO of Univrses.
SynerLeap, ABB's accelerator for start-ups, is an initiative derived from the need to enter the market faster with new products, together with the innovative environments that start-ups offer.
– The motivation for SynerLeap and ABB's start-ups collaborations is to create value. Not just for ourselves but for all our partners, customers, start-ups, the industry and the environment. The collaboration with Univrses is a good example of that and the result even exceeded our expectations. We are incredibly satisfied, says Martin Olausson, responsible for global business development at SynerLeap.
Power Circle Summit, a collaboration between the Swedish Energy Agency, EIT InnoEnergy and the Swedish Exhibition Center kicks off on 3-4 May 2021 as part of Elfack  at the the Swedish Exhibiton & Congress Centre, Gothenburg.
More information at elfack.com
Ignite Sweden is run by SISP, Swedish Incubators & Science Parks, THINGS, STING, LEAD, MINC and UMINOVA. Ignite Sweden has so far arranged 2968 matchmaking meetings between start-ups and large companies. 505 start-ups and 168 large companies have so far been involved in the project. 42% of the meetings have generated trials and 101 concrete commercial collaborations have been created.
Article from Ny Teknik »