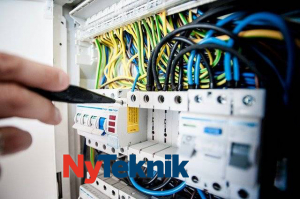 There are illegal electrical installations in 3 out of every 10 households in Sweden. Not only are they illegal, they also involve a high risk of accidents in your home. Koppla Säkert ("Connect Safely") is a service, launched by the Swedish Electrical Safety Agency, which provides information to private individuals who want to fix electrical installations at home themselves.
The Swedish Electrical Safety Agency has developed the information service Koppla Säkert in collaboration with a large group of partners, including everyone from retailers to manufacturers. Why, you might be asking yourself? It is estimated that there are illegal electrical installations in 30% of Swedish households. We also know that there is a large number of accidents involving private individuals and DIY. If, as a non-professional, you have an electrical accident in your spare time, you are not obliged to report it.
– Electrical installations are complex. This is why they should be carried out by authorized professionals. It has not always been completely clear what you are, and are not allowed to do yourself, says Elin Cederholm, Project Manager for Koppla Säkert. You can, for example, buy all parts and applicances, but you are not allowed to install all of them. Koppla Säkert exists to inform you clearly about what you are allowed to do and what is actually illegal and potentially dangerous to do yourself.
Koppla Säkert's mission is to increase electrical safety in Swedish homes in the long term. This will be achieved with the help of an information service that is web-based and accessible from both computers and smartphones.
– When we developed Koppla Säkert, we worked closely with the industry, which is incredibly important if we are to be able to reach consumers and convey this knowledge. You have to get everyone singing from the same hymn sheet, so that there is no room for ambiguity, says Elin Cederholm.
One of the companies that the Swedish Electrical Safety Agency worked with in its reference group is the retail chain Biltema:
– We have supported the Swedish Electrical Safety Agency in how we manage this both physically in our stores and online to have the best possible impact. It has also simplified things for my colleagues who meet customers and need to explain to them what applies when it comes to electrical installations. Everything now comes under the aegis of Koppla Säkert, which makes it easy for them to pass on the information, says Johan Gerdevåg, marketing manager at Biltema in Sweden.
To reach as many consumers as possible, the Swedish Electrical Safety Agency has carried out a digital campaign over the summer and is doing another one in the autumn. The campaign has taken shape through digital and social media, among others, but also in various industry media.
– So far, we have had 70,000 unique visitors to kopplasäkert.se  Our biggest goal is that in the long run this will reduce the number of illegal electrical installations in Swedish homes. We have received enormous support from the industry. 320 different companies have supported the campaign, which is incredible. We get the best results if those who work closest to consumers engage in a conversation with them where they can convey the information, concludes Elin Cederholm.
At kopplasäkert.se there is all the information you need about which electrical installations you can carry out yourself and those for which you need professional help. Improper electrical installations involve a lot of risks – both for your home and for the people in it. Therefore, it is important first to check if your planned electrical installation is legal or not.
Elfack will take place at the Swedish Exhibition & Congress Centre, Gothenburg, on 4-7 May 2021, together with Power Circle Summit and SWITCH. About 25,000 participants will gather there to learn and share knowledge, and to inspire each other. Together with Power Circle Summit and SWITCH, Elfack creates a forum for future solutions in electricity, power, light and information technology.
If you want to know more about the kopplasäkerhet.se campaign, you can read about it here.
Article from Ny Teknik »