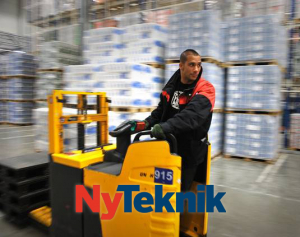 Building and developing properties and energy systems to make them smarter clearly has its advantages, but it still falls within the broader framework of innovation. In a joint project, Harju Elekter, Siemens and Assemblin have electrified ICA's new e-commerce warehouse and thus created the conditions for a smart infrastructure and total control of energy consumption.
– Together with Assemblin and Siemens, we were given the task of electrifying the entire warehouse – and we advocated taking it to the highest level. This has been talked about in the industry for 15 years, but until now we have lacked the right tool to implement it right across the system, says Mikael Schwartz Jonsson, CEO of Harju Elekter Sweden.
– It will be a very flexible facility that gives you control down to the smallest detail. You will be able to lift the lid on things that were previously hidden from view. This is clearly something all major property owners want access to, says Johan Hellman, branch manager at Assemblin.
The innovative work with the electrification of ICA Bruna's new e-commerce warehouse is a three-way joint effort, with Assemblin having the contract to supply electricity for the warehouse construction, among other things. Harju Elekter delivers hardware in the form of control panels, distribution boxes, switchgear and complete stations. Siemens delivers the low-voltage products as well as the SENTRON power manager software that Harju Elekter puts into operation in the switchgear.
– With SENTRON power manager, you can collect values such as current, voltage, power, and energy, and continuously evaluate electrical quality. It provides property owners with real-time monitoring of the facility's electrical system and can thus detect problems early on, so that all forms of operational disruptions can be avoided. A simple interface also ensures intuitive use, enabling a more efficient, secure and accessible energy system, says Erik Mårtensson, business unit manager at Siemens AB.
When building and developing properties, it has long been a matter of keeping down costs. An approach that is easiest in the short term, but, depending on the business, not as flexible in the long run. Despite the fact that the project is a break with trends in real estate, and that the solutions are relatively difficult to sell, Harju Elekter hopes that more people will follow suit.
– You initially pay for the high degree of automation, but it will then provide a payback over time that you would not have received otherwise. ICA will have precise control of every part of the entire warehouse; in theory, they can break it down to each individual lamp, if they wish. Of course, this is interesting from a sustainability perspective, but also for operational reliability, cost savings and the opportunity to develop the property further in the future, says Mikael Schwartz Jonsson.
– We are creating transparency in energy consumption as a result of all forms of digitalisation and can thereby reduce unnecessary waste of resources. Basically, it is about ensuring that buildings and industries become more adaptable, safer and more energy efficient. The important thing is to optimise use of resources by digitising, automating and streamlining our buildings, says Erik Mårtensson.
The cooperation between the parties is in itself innovative. Instead of behaving according to the classic roles of buyer and supplier, between them they have sketched out a competitive and scalable solution – a winning concept for the business of the future.
The solutions of the future will require collaborations like this where companies work together to find smarter solutions together. ELFACK takes place on 4-7 May 2021 at the Swedish Exhibition & Congress Centre in Gothenburg. Together with Power Circle Summit and SWITCH, ELFACK is a cross-industry meeting place for the solutions of the future.
Article from Ny Teknik »