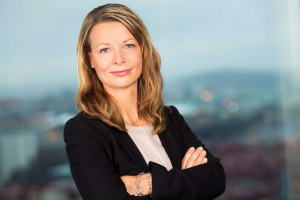 ELFACK is fast approaching and we took the opportunity to take the pulse of Anna Jarnö, Business Manager at the Swedish Exhibition & Congress Centre Gothia Towers.
With only seven months left until ELFACK opens, what news can we expect?
– There are several new elements to look forward to! In planning the event, our team's aim is to highlight as much as possible of everything exciting that is happening in the electricity and energy sector, both in terms of established technology and of course  future solutions in electricity, power, light and IT.
In addition to the fair's approximately 400 exhibitors, there are lots of skills development seminars to take part in. We are also planning more digital elements because the ambition is to create a high-quality dialogue over time, and of course to reach more people in the sector, no matter where they are. This seems obvious in the new era we live in, after the pandemic struck in March this year.
It seems to be a wise move. You mentioned skills development seminars, what can we expect from the programme?
– We work with almost all leading organisations in the sector to ensure high topical value. All seminars are quality assured and will take place on the second floor, where we can offer plenty of space in safe environments.
The programme will take place on two open stages and will leverage smart electrical infrastructure. Up until 1 October, the ELFACK community was able to submit proposals and right now we are putting together the pieces in the enormous puzzle to create as interesting a programme as possible based on the fair's themes.
What themes has ELFACK chosen to focus on?
– ELFACK is an event that really has the opportunity to drive the development of society in a number of different areas and industries, such as renewable energy and increased electrification, in combination with more and more digital services. We will show cutting-edge applications, the latest research trends and inspirations, and take deep dives in technical development. Programme themes are:
Smart properties and the smart city
Smart grids and new local energy systems
An electrified transport system
Smart lighting for durability, better health and efficiency
What other news will there be to discover at ELFACK?
– We are making a major investment in lighting with a focus on energy-efficient, sustainable and healthy environments. In addition to exciting seminars, we are creating a completely unique concept, an environment in which to show new lighting technology in context. Visitors will have both the opportunity to put questions to experts, feel the latest technology close up and experience new lighting concepts in context, for example in healthcare, in school or in the office. Pretty soon we'll be able to tell you more, but I can already reveal that there has never previously been anything similar at ELFACK, says Anna Jarnö.
More information about the programme at ELFACK is presented regularly on elfack.com and in the ELFACK group on LinkedIn.com.