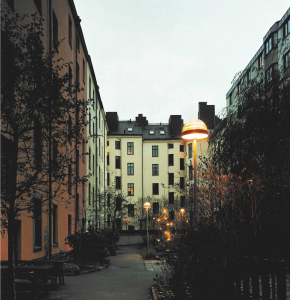 Fast installations, intelligent luminaires, highly efficient control.
– That is what we are investing in. But at the same time we want to make it as easy as possible for the installer, says Magnus Jonsson, CEO of Nokalux.
The company is planning a major investment in Elfack 2021, when Nokalux celebrates its 50th anniversary. Something no one should miss …
Innovation and tradition live side by side at Nokalux. It is not only the company itself that celebrates its 50th anniversary next year, but also the classic pole luminaire VG 10.
The familiar lamps are found in residential areas, in parks and along footpaths all over Sweden. Since the luminaire broke through in the 70s, it has been equipped with LED lighting, but the design seems timeless.
– So we also intend to celebrate it. There are not many luminaires that are so old and are still produced and in demand, says Magnus Jonsson.
The secret behind the success, he says, is the minimal glare, which provides a pleasant light environment. The lamppost lighting can also be controlled, which now applies to virtually the entire range from Nokalux.
– Control, or intelligent lighting if you will, is really our thing, he says.
Nokalux has invested heavily in light regulators and wireless sensor solutions built into luminaires, controlled via Bluetooth apps.
– It is an extreme trend right now: our corporate customers want the opportunity to control individual luminaires that are also connected to routers to measure energy consumption, among other things. This can have enormous economic significance.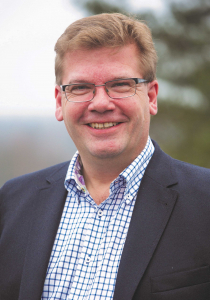 Magnus' role includes an educational task: to show the customer how sustainability, quality and energy costs are related. For example, explaining that only 15-20 per cent of the cost of a newly manufactured luminaire consists of labour costs.
– The rest, the main part, is material costs. If you choose a smart solution that may last for 30 years compared with lighting that must be replaced every three years, everyone understands that buying cheap will be expensive.
Nokalux manufactures an average of 1,000 luminaires per day at its two factories in Töcksfors in Värmland. Sustainability is a guiding principle: all purchases are made as locally as possible; LEDs and circuitry come from Philips and are manufactured in Poland.
Due to the short distances, and solid preparation, they can offer as short a delivery time as short as five to eight working days, even for really large orders.
– We actually sell knowledge. We make lighting designs and submit proposals for lighting and customised luminaires to make it faster for the electrician to build a good system, Magnus explains.
The objective is to create a good lighting environment with as few luminaires as possible. It should work well for the customer, but also be easy to install. For example, the wiring between the lighting points is usually complete. Also, most luminaires are delivered without carboard boxes. They are not climate-smart!
– If we deliver 500 luminaires to a building, the electrician will not have to go and throw out 500 boxes. This is a waste of time and is bad for the environment.
– We want to get rid of all those stupid cartons. Mainly to make everyday life easier for the electrician. The fact that it also provides great environmental benefits is an added bonus.
At ELFACK 2019, Nokalux made an investment together with the software supplier DIALux to reflect the new digital opportunities. It turned out very well and a follow-up is planned at ELFACK 2021.
– Two years ago, wireless sensor communication was something completely new in our industry. Now it is starting to be established across a broad front, Magnus Jonsson points out.
– That is why it is extremely important for us to reach important target groups such as electrical consultants and electrical installers. So we really hope that ELFACK can go ahead as planned in May and that we get a really big turnout at the stand.
As to the 50th anniversary, what are you actually going to reveal?
– Sorry, we want to keep it under wraps for a while longer – it may be a cliff-hanger. But I can guarantee that it will grab people's attention!