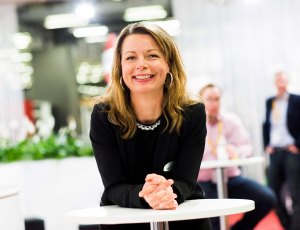 Hello Anna at ELFACK!
How's it looking for ELFACK this spring?
The team is working full time and the planning is going according to plan, so it looks good! We are approaching 250 exhibitors and the programme is starting to take shape. In other words, we are really turbo-charged and look forward to opening the doors on 4 May 2021!
Will the event go ahead?
Yes, absolutely, that is our hope and belief! Together with other trade fair organisers in Sweden, we are engaged in a dialogue with the Swedish Public Health Agency and the Government about how we can open up in a safe way, without the risk of increased spread of infection. As soon as the restrictions are eased, we're all set.
In parallel, we are developing more digital elements at ELFACK. In 2020 we accumulated a wealth of experience in organising effective and successful digital meetings. Already in May, we held the Power Circle Summit – which should actually have taken place at the Munich Brewery in Stockholm. We were delighted that the conference gathered significantly more delegates than in previous years, despite switching from a physical to a digital meeting in just a few weeks.
Will the date stay the same?
Yes, ELFACK and Switch will take place on 4-7 May. The strategy conference Power Circle Summit will already kick off on the evening of 3 May with a networking dinner. It will be a highly charged week of electricity and energy!
Will there be anything new in the show concept this spring?
Yes, we are broadening the scope so that the exhibition covers electricity, power, light and information technology product areas. In addition, we have set four themes that frame the programme on open stages, including smart grids and electrification of the transport sector. All seminars are moving up to the second floor, both to create open and safe environments and to make them easy for visitors to find. As if that were not enough, we are creating a completely new concept area around lighting in collaboration with some of the industry's most important players. So there is a lot to look forward to – perhaps you should block the entire week to be sure you'll have time!
Are the exhibitors excited at the prospect of meeting customers?
You bet! ELFACK is, as you know, the Nordic region's leading meeting place for the entire electricity and energy industry and takes place every two years. After a time of very few meetings and conferences due to the pandemic, most people probably feel that the need to meet is greater than ever. Digitalisation has affected us all and forced us to think in new ways, which is fantastic! On the other hand, a physical meeting offers so many other opportunities, both when it comes to developing business and creating creative solutions. People meeting face to face creates incredible energy, so we are really looking forward to it!
What should you keep in mind when visiting a trade fair?
As far as the pandemic is concerned, you should of course follow the advice given by the Public Health Agency, such as keeping your distance and taking care with hand hygiene. Of course, the same applies in any environment you are in, and when it comes to trade fairs, there is rarely any serious crowding. A tip can be to choose off-peak times when there are usually fewer visitors on site, for example early in the morning or late in the afternoon. On our website you will find more information about safety on site at the Swedish Exhibition & Congress Centre Gothia Towers.
I think you should also prepare for your actual visit to the event. For example, by looking through the open stage programme in good time and seeing what you can benefit from, which exhibitors and suppliers you want to meet, which get-togethers and business meetings you don't want to miss and so on. Thinking through and planning your visit is usually of great benefit once you are onsite, not least because so many exciting things happen everywhere – both on the exhibition floor and in the programme.
At www.en.elfack.com we will continuously publish more information about exhibitors and activities on 4-7 May 2021. You can also join the ELFACK group on LinkedIn to get tips and ideas.
Power Circle Summit takes place on 3-4 May. This year's theme is Connecting Energy. Find out more about the programme and how to register www.pcsummit.se. Warm greetings!