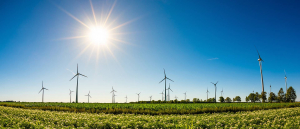 The energy sector is at a turning point. Or is it? Talk about various industries that are in the middle of a change or turning point has become virtually banal. Many would also argue that such a statement from the energy industry in particular should be taken with an extra pinch of salt. It has hardly changed in 100 years, compared to many other industries whose rate of change is significantly higher. What's different now?

– There are three clear factors showing that today, we really have reached a turning point in the energy sector as well. The first, and most important, is a broad political consensus that we need to act to reduce climate change. The second is that change must be faster and more thorough than previous assessments have shown. And third, access to clean electricity and heat combined with the development of new technology has made it possible to reduce emissions in the transport sector and industry that did not seem conceivable just a few years ago, says Markus Wråke, CEO of Energiforsk.
An increased awareness of the acute climate issue, the demand for a faster rate of change and the current technological conditions thus indicate that we have reached the big turning point in energy. For real. A change driven by completely new ambitions.
– We are in the middle of a paradigm shift that is driving this great change. To some extent, the political objectives have been stepped up in many countries. In Sweden we already have a climate law, and a new climate law on binding climate objectives is on the way within the EU. At the same time, the pace of development has increased in all energy-related industries where there are great business opportunities in finding fossil-free and circular solutions, says Tomas Wall, chairman of Energiforsk.
Tomas Wall and Markus Wråke work for Energiforsk, a company that initiates and leads research and development programmes across all areas of energy, from supply to use.  Energiforsk is built on three pillars: one in companies, giving it an overview of their needs, one in the research world and a third in politics, giving it a view of political priorities. Their mission is to conduct R&D to help accelerate the development of future energy systems. But what does the energy system of the future mean?
– None of us know exactly how it will develop, but things are moving fast as a result of several parallel technological shifts in industry, transport and construction. Even higher up in the energy market, there is a strong development of renewable energy sources, CCS technology, energy storage and renewable fuels. There are many indications that we will see a sharp increase in electrification, which places demands on the expansion of electricity production and a distribution system that can handle the increased amount of electricity, says Tomas Wall.
– Another important part of the energy transition therefore involves thinking about the overall energy systems. When, for example, you no longer use blast furnaces to produce steel, but instead use hydrogen. That is a revolution in itself, of course, but pointless if you do not also think about how the hydrogen gas is produced. It becomes necessary to think at this system level, says Markus Wråke.
No major adjustment takes place without friction. An energy transition also has its challenges. According to Markus, there are three key challenges that need extra attention and work:
– Regarding the climate, industry and transportation have the furthest to go; this is impossible to ignore. But if we compare traditional energy supply with the current direction, a major challenge will be to balance increased dependence on the weather in the electricity system, with large-scale expansion of wind and solar. Finally, local aspects of electricity supply will also be a challenge, driven by capacity problems in distribution, for example.
With that said, we are right now at a point in time that has enormous potential to handle a change of this magnitude. According to Energiforsk, this comes at an absolute cost that is manageable. It is sometimes a matter of being able to accept a less perfect market, where cost efficiency is not the only priority; in this way it is possible to increase the speed of development.
– The energy market has become a market for innovation, where new and established players collaborate across traditional industry boundaries. When the energy roadmap is redrawn, conditions change for everyone. What we all need to do is build new knowledge and speed up learning. At Energiforsk we see ourselves as an important disseminator of knowledge for this, says Tomas Wall.
Together with Power Circle Summit and SWITCH, ELFACK is a trade show for the exchange and dissemination of knowledge in electricity, power, light and information technology. Industry comes together at ELFACK to engage with new technology and innovation.  ELFACK takes place on 3-6 May 2022 at the Swedish Exhibition & Congress Centre in Gothenburg.