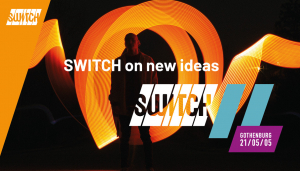 Welcome to the "arena of the future" for the entire electricity and energy sectors! SWITCH is a forward-looking meeting place focused on the changes and adjustments driven by technology shifts and digital services. It's an arena where new and established companies can meet to discuss the needs of a future sustainable society.
– The transformation to sustainable energy, which is taking place while companies are creating new service offerings, is the very starting point for SWITCH. Sweden needs to build its strength in development to become the world's first fossil-free welfare state, says Annika Persson, Business Development Manager at the Swedish Exhibition & Congress Centre.
SWITCH is an opportunity for the electricity and energy industry to accelerate its business development. It enables business developers at technology suppliers and energy companies to acquire new knowledge, network with colleagues in various industries, and find valuable contacts for the future.
SWITCH – part of ELFACK
SWITCH is the catalyst for implementing perspectives and strategies in the electricity and energy sectors. The event is being organised digitally and will take place on 5 May, as a prelude to ELFACK 2022. The focus is on new and competitive solutions that will make an impact in society. Basically, it is about bringing a systematic transformation, that is, changes in entire areas of society, sectors and industries.
In the roadmap for a climate-neutral Sweden, electrification and digitalisation are crucial enablers in the ongoing transition. The time to act is now!
In the programme, key players will present their solutions in electricity, lighting and power, and discuss what is needed to accelerate the transition in real estate and cities, transport and industry. Issues that are addressed include:
What are the solutions going forward for the various sectors of society?
How can we increase the pace of change and remove obstacles to development?
How do we build knowledge and competence to bring about the system changes that can accelerate the transition?
What is required for transition to become a competitive advantage and a Swedish area of strength?
The SWITCH arena is organised by the Swedish Exhibition & Congress Centre and takes place 5 May 2021. Registration opens in February.
Note that SWITCH is conducted in Swedish.