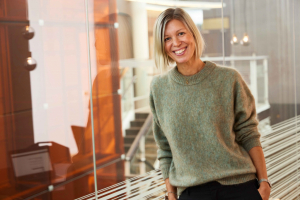 Anna Jäderström is the unit manager for the balancing market at Svenska Kraftnät. On 4 May 2021, she will take part in the Power Circle Summit in the section Connecting Data. We talked to her about the digitalisation of the power system, and asked for her views on trends, opportunities and challenges for the energy industry as a whole.
This year's theme for the Power Circle Summit is "Connecting Energy". When Anna Jäderström is asked what she associates with this theme, her thoughts naturally turn towards support services and balancing.
– The first thing I think of is that we are moving from the old, traditional power system, with large production units and fairly predictable consumption, into a new system that brings with it challenges but above all opportunities. "Connecting" makes me think of the opportunities that may come with the new flexibility; for example, more flexible consumption that can actually be used to create a stable power system, in contrast with what has historically been the case. As everything becomes more and more connected, there are also new opportunities to control the new units and collect the information required for a sustainably robust electricity system.
New methods make requirements visible at the aggregate level
As a representative of Svenska Kraftnät, Anna brings with her an important systems perspective to this year's edition of the Power Circle Summit, where she will take part as a speaker in the programme item, "Connecting Data" – a title she associates with digitalisation and how we are becoming more data-driven in everything we do, especially when it comes to analysing future needs.
– Through our increasingly data-driven work, we offer methods that involve making a five year plan based on statistics. Digitalisation gives us the opportunity to adapt whatever measures need to be taken based on information that makes the needs visible. This can create increased efficiency, and lead to us to the right decisions about which measures to take, based on the very best data. In this way, we also become more fleet of foot in identifying new trends and phenomena in the power system, which is not always so easy at the  aggregate level.
In answer to the question of how data can be a tool for finding out what efforts are needed in the network, Anna Jäderström has many ideas, not least those linked to frequency and balancing needs.
– We will of course go towards balancing each electricity area separately, and this requires a lot of data, because you have to study the imbalance within each area. Since we have a lot of automatic reserves that regulate frequency, you have to calculate what has actually been activated, and what is the reason for the imbalance. It is an extremely data-driven job, working with reliable measurement values and calculations to find sources of error. We need the right data to determine the extent that supplementary services are needed at any given time. If we take too much, it will not be socio-economically efficient, and if we take too little, we will jeopardise the delivery of electricity to the end customer. That's why it is important that the calculations are correct.
Dialogue during the process – a prerequisite for the transition
According to Anna, developing data-driven work will also be beneficial when it comes to other issues, such as voltage regulation, reactive effect and additional phenomena. She also believes that being able to make data available to more people, creating better market information and transparency, will be important.
– With data, we can pinpoint the market needs in the network in a timely manner, so we can procure what we need in a more transparent manner, instead of it suddenly becoming very critical. Much of the information we provide to the market today is also based on manual calculations, causing a time lag before the information can benefit the market. If we can use data to achieve this with market information and transparency, we can more quickly provide more information to the market, universities and the players who work with new technology. And then we can get even more momentum behind the energy transition!
Anna Jäderström sees the availability of information as a prerequisite for the conversion work of the energy sector as a whole. She emphasises that it is noticeable that the industry is well informed, and that there is a great willingness to innovate with a lot of knowledge and competence that should be enablers for the transition. At the same time, she expresses a desire to open up dialogue between players to a greater extent throughout the process, in order to take full advantage of the opportunities presented by digitalisation.
– Above all, I believe in highlighting pilot projects and sharing experiences more than we do today. I think a lot is going on, but we have a tendency not to highlight projects until they are on a large-scale and perfect, good enough to be rolled out. Maybe we should get a little better at daring to try things out, and also show things on a small scale, when it is still maybe only half good but still a step forward. Maybe we can collaborate more on the issues around digitalisation in the industry as well, and then create a dialogue about data-driven work where we focus on the issue rather than getting stuck in the question of how?
Solutions along the way in a changing world
When asked what she sees as the challenges in the industry, Anna highlights the fact that we are going through change, without having all the solutions in place, and that a large part of the challenge lies in finding solutions along the way in a changing world without knowing how everything will work in the future. However, she points out that it is better to do something than to wait, and we may therefore have to accept that it will not always be perfect at every stage.
– As everything changes all the time, we can't just rely on historical data, we must work more with various future scenarios, and maybe not just have one stock solution but several alternatives!
Anna says there are also challenges linked to legislation that must be solved if we are to succeed in opening up the opportunities to share information in the way she advocates – to achieve development and transition.
– I really wish that more data could be made available and released to those who are interested, but we also have very strict IT security legislation that governs our industry and can set limits in the new connected world we want to develop. We need to be good at finding solutions here, not just seeing obstacles. However, being increasingly regulated by European legislation and regulatory guidelines is also a challenge, as I see it. Of course, there are many good things that come with creating a competitive European electricity market, but this also creates a framework governing what each individual member state can do and decide. And this in turn may reduce the degree of freedom to try new things.
Accelerated digitalisation as an effect of the pandemic
Seeking solutions rather than obstacles has been key, not least during last year's pandemic outbreak. Just as the Power Circle Summit has been converted to a digital format, Svenska Kraftnät has also – driven by the need for new approaches – encountered new ways of thinking about digitalisation. In addition to noting the great benefits of digital meetings, with a new landscape opening up for energy through the medium of webinars, Anna has also observed that they have also started to consider whether certain processes in Svenska Kraftnät's operations can be digitalised.
– For example, when we bring in new providers of support services. In the past, the pre-qualification process for these suppliers has involved many meetings and long e-mails, which may even have been the bottleneck slowing down the process because of our limited resources for analysing test protocols. We have now started to investigate whether we can offer a test programme enabling the players themselves to do their own pre-qualification and continuously update their information, without having to go through us. We do not have a solution yet, but we are working on it and I definitely think that the work has gained more momentum during the corona pandemic, as this has led to a dialogue about what can be made more efficient!
The power of innovation is clearly bubbling up in the energy industry as a whole, and the wheels are in motion for many new opportunities. But which of the topics that are on everyone's lips in the industry will be embraced as commonplace by the general public? We'll let Anna Jäderström predict the future.
– Electricity supply is an everyday topic of conversation among industry insiders, but I hope that it becomes a matter of course for the end customer, contributing to the larger electricity ecosystem through their consumption of electricity. Although customers are increasingly interested, their interest sometimes cools, owing to the long lead times in the industry. I think that the industry needs to be faster as the customer engagement grows, so that we can drive progress from both sides. The dream scenario would be all customers sitting down to Christmas dinner and discussing flexible electricity networks, heat pumps or their contribution to frequency control while their cars were charging! I don't think it has to be that far off – maybe not next Christmas, but the Christmas after that?