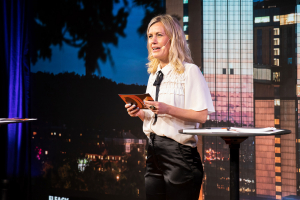 Lots of people talked about collaboration at this year's SWITCH.
– But it takes more, a plan and a common vision to cope with the change. SWITCH raised hopes for collaboration – next year I hope we will see that it really happens, says Karin Bodén of Jämtkraft, who was the moderator at SWITCH 2021.
Responsible for public affairs at Jämtkraft, Karin Bodén works on issues related to the transition every day, but she still thinks that the experience from this year's SWITCH has given her new insights:
– Above all, it is so fantastically useful when different sectors of industry and society get to meet and discuss from different perspectives, she says. It is a puzzle that has to be solved and I think it's like this: one player has a piece of the puzzle relating the real estate industry, another has a piece relating to the transport sector and so on. But to achieve results, all the pieces of the puzzle must fall into place together.
A lot is about bringing pictures and descriptions of problems into sync, she says:
– Different parties can of course have different solutions, but we must also have a common solution.
To know where you stand and how far you have come on the way to finding that solution, you need to gather together and exchange experiences from time to time, Karin strongly believes. For example, at meeting places such as SWITCH and ELFACK.
– Getting together is important, but we also need to be more creative. One word I heard very many times during this year's SWITCH was "collaboration". At the same time, I think we are groping around: what kind of collaboration do we really want?
In panel discussions, she asked follow-up questions about just that: "What could you think, if you thought outside the box?" But the answers were vague.
– Many do not even know who they want to collaborate with. Apart from the IT sector, because everyone wants digital solutions. What if someone had said something like: Oh how cool, we could brainstorm together on health and safety or with the food industry.
Karin Bodén sees a danger in people only interacting within their own industry.
– Every industry changes, even the one you operate in and are familiar with. New players appear. That is why it is so important to look outside your industry to find collaboration opportunities and solutions that can drive the transition.
She sees next year's SWITCH and ELFACK as an opportunity for everyone involved to agree on how far they have come.
– I think that quite big steps will be taken within the next year. At Jämtkraft, for example, we are taking one with a strategy that is precisely about solving this puzzle and seeing who we will collaborate with.
An important goal for the company is to become better at storing energy.
– Among other things, we want to produce electric fuel. By capturing carbon dioxide from co-generation plants and adding hydrogen, it is possible to produce aviation fuel.
It will be an easily stored, liquid fuel that can be used for road traffic and shipping as well as aviation.
– In experiments we have done together with the Swedish Environmental Institute, Lund University and Chalmers University of Technology, we have developed renewable liquid vehicle fuels and, not least, a renewable aviation fuel, Karin confirms. Right now we are looking for partners to move forward. We believe this is a good example of how the transition can take off.
Electric fuel could be a hot topic of discussion at SWITCH and ELFACK 2022. Another could be related to the word "renewable" as opposed to "fossil-free". There is currently a hot political debate with regard to the role of nuclear power in a society that faces sharply rising electricity needs and challenging climate goals. And 2022 is an election year.
– Yes, the temperature is likely to increase in that debate. We need to discuss what the energy map of Sweden should look like when large electricity-consuming investments are made in, among other things, battery factories, steelworks and mining.
Regardless of whether the emphasis is on renewables or fossil-free, Karin Bodén believes that a discussion is needed about the acceptance of the major change.
– How are we going to take people with us, how are we going to get more people to want to be part of this journey towards the wonderful sustainable society? Some people think they are making huge sacrifices in their lives, others mainly think that it is difficult making the changes.
She emphasises that it is about projecting a vision.
– We need to create a credible picture that we can all get behind. One that conveys sustainable living: what does it feel, sound and smell like?
Many changes are market-driven. Electric cars are an example.
– Then we'll see that things can happen very quickly. I think we will see that more and more in each sector: the market pushing harder towards sustainable solutions, says Karin. I am also convinced that we will see many examples of this at SWITCH and ELFACK next year.
---
SWITCH took place on 5 May 2021 and is ELFACK's window into the future. More than 400 people watched the broadcasts live from the Swedish Exhibition & Congress Centre. The theme for the day was "Electrification and Digitalisation – Solutions for the Circular Society of the Future". The event was organised in a fully digital format in which speakers, programme partners and participants interacted and debated, as a prelude to ELFACK on 3-6 May 2022. More information at elfack.com.