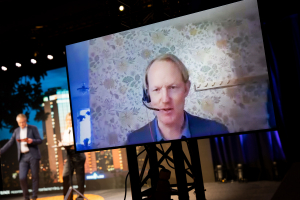 Long lead times for new electricity networks can slow down Sweden's electrification.
– Our focus is to work together to achieve an ambitious target of halving lead times for new electricity networks by 2025, says Truls Borgström, coordinator of the government's electrification strategy.
The framework for the conversion and expansion of the electricity system was the focus of Truls Borgström's programme item at SWITCH, where he also took part in the panel discussion.
– First and foremost, I reported on the conclusions we presented on 30 March at a stakeholder meeting, to which the Minister of Energy and Digitalisation, Anders Ygeman, was invited, he says.
At the meeting, the conclusions of the electrification strategy's feasibility study were discussed. A working group at the Ministry of Infrastructure has been working on this study since October 2020.
– The meeting was a conclusion to the feasibility study. In the future, an in-depth phase awaits with a focus on measures prior to a government decision, which must be made no later than 29 October this year, Truls Borgström says.
He believes that the strategy is important, first to draw up the main outlines, but also for defining concrete measures in the short and long term. A twelve-point programme will guide the ongoing work so that electrification can contribute to the target of zero emissions by 2045. The points include, among other things, the planning framework, roles, responsibilities and coordination, streamlining of power and energy, system integration of heating-electricity-hydrogen, increased flexibility, proactive infrastructure expansion and shorter lead times.
– We are now looking at whether it is possible to halve the average lead times to 2025. We calculate this as the time from ideation to the facility being in place, says Truls Borgström. The government is already working on this issue and a bill is being prepared. But we are considering whether more measures are needed to deliver on the strategy.
He emphasises the importance of designing a planning framework.
– It will take into account a possible doubling of electricity usage by 2045. The uncertainties are great, but a planning framework can clarify needs and increase the conditions for the electricity system to develop in step with needs.
The meeting with the market's various players at SWITCH was very rewarding, he thinks.
– Absolutely. It is motivating to hear about concrete solutions, not least from the companies themselves. On the panel we received many questions, and I experienced a great commitment among both participants and listeners.
---
SWITCH took place on 5 May 2021 and is ELFACK's window into the future. More than 400 people watched the broadcasts live from the Swedish Exhibition & Congress Centre. The theme for the day was "Electrification and Digitalisation – Solutions for the Circular Society of the Future". The event was organised in a fully digital format in which speakers, programme partners and participants interacted and debated, as a prelude to ELFACK on 3-6 May 2022. More information on elfack.com.