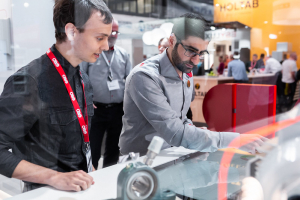 The pandemic meant that this year's ELFACK had to be postponed. After close dialogue with the industry, the management team has decided to hold the next full-scale physical fair in 2023.
– Meanwhile, we invite you to an innovative mid-year gathering in 2022, reveals Anna Jarnö, business manager for ELFACK.
This means that ELFACK will not take place as planned in 2022. Instead, the Swedish Exhibition & Congress Centre will invest fully in ELFACK 2023 based on firm dates and the established intervals. The decision is based on opinions that we have received in the form of emails, conversations, interviews and surveys.
– The conversations we have had with organisations and leading players in the industry gave us a clear message: full-scale events in both 2022 and 2023 would be too close together and too challenging for many companies, says Anna Jarnö. We have therefore arrived at this solution with the clearest possible understanding.
One factor we needed to take into account is that the demand for physical meetings has probably never been greater than now, as a consequence of the corona pandemic. A lot of events have been postponed and many exhibitors want to show off their latest products and meet their customers as soon as possible.
For this reason, ELFACK has chosen to stick to the plan of holding a physical event in the first week of May 2022, in collaboration with leading players in the industry. It will be a mid-year activity in a partly new format.
– We'll return to the plan setting out the exact format within the next few weeks. A project team is working full time on the issue right now, says Anna. During the pandemic, we accumulated a vast amount of knowledge. The Swedish Exhibition & Congress Centre has conducted around 200 digital meetings and studio productions, which has strengthened us as an organiser of both physical and digital meetings.
The 2023 edition of ELFACK will focus on meeting the needs for sustainable solutions in electricity, power, lighting and information technology. With the advent of the future arena SWITCH, which premiered in 2019, and the Power Circle Summit conference for leaders and decision-makers, ELFACK has developed into a broader and cross-industry meeting place. The significant need for further evolution is sure to make its mark on the upcoming trade fair.
A forward-looking and relevant discussion at ELFACK is of the utmost importance, says Anna Jarnö: – And that applies regardless of the format of the event, she emphasises. At ELFACK, you should be able to experience new technology and innovations, network and do business, get inspiration for new solutions and benefit from both broad and specialist knowledge content. It is precisely the mix that makes ELFACK unique!
---
ELFACK is the Nordic region's largest event where the entire electricity and energy industry showcases new products and solutions. It's where industry representatives will gather to network and do business, find out about new technology and innovations, get inspiration for new solutions and benefit from the unique knowledge content on offer. More information on the event is available at www.elfack.com.