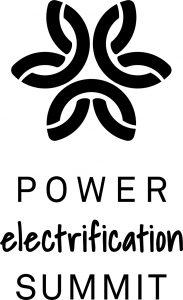 The Power Circle Summit, the energy industry's strategy conference, becomes the Power Electrification Summit – and with a clearer focus.
– We're focusing on electrification and invite everyone at the cutting edge, says Annika Persson, business developer at the Swedish Exhibition & Congress Centre.
The Power Electrification Summit, like its predecessor, will be an annual strategy conference for leading players in the circular energy society of the future. But with a shift in focus and a new framework.
– Electrification is the way to a sustainable society. The new name of the conference more clearly reflects the role of electrification in the transition, Annika Persson explains.
The Power Electrification Summit 2022 begins on Monday, 2 May in the evening with a networking dinner for conference participants and sponsors, followed by a full-day conference on 3 May at the Swedish Exhibition Centre in Gothenburg. This new activity has been organised for the electricity industry in direct connection with the ELFACK:TA conference and exhibition, with a focus on knowledge and education and about one hundred participating companies.
The Power Electrification Summit will also take place at the Swedish Exhibition & Congress Centre in 2023, this time in parallel with a full-scale edition of ELFACK, the Nordic region's largest trade fair and meeting place for the electricity and energy industry. After that, the idea is that the conference will switch annually between Stockholm and Gothenburg.
The structure is thus largely the same as before. We continue to  organise the conference together with our partners the Swedish Energy Agency and InnoEnergy Sweden, while the interest group Power Circle is withdrawing.
– We thank Power Circle for their excellent collaboration over the years and part in friendship. We extend a warm welcome to all its members at upcoming conferences, says Annika Persson.
– At the same time, we want to broaden the base for the conference and invite more organisations to collaborate. We have a number of such discussions under way right now.
The work of setting the content and theme for 2022 is in full swing. Electrification and infrastructure will be key topics. More information will be presented shortly.
---
Power Electrification Summit is an annual conference for thought-leaders, focused on the energy needs of the circular society of the future. It is where decision-makers, innovators, entrepreneurs and strategists meet to share and gather knowledge and insights. The conference focuses on concrete examples, inspiration, collaboration, disruptive forces and smart and sustainable technology. In a challenging and changing time, the Power Electrification Summit puts its audience and participants in a better position to prepare today to act in the competitive market of tomorrow. Information about the conference is frequently updated at pcsummit.se