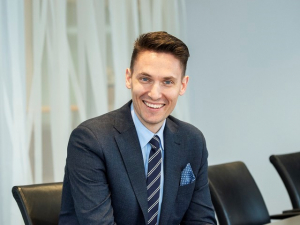 In May 2022 the electricity industry will finally come together again. More specifically at ELFACK:TA, a completely new event at the Swedish Exhibition & Congress Centre with an emphasis on knowledge and education – and socialising!
– We strongly believe in this approach, says Patrik Andersson, chairman of Elmateriel Leverantörerna, EL.
The pandemic put an end to the 2021 ELFACK. And after discussions with the industry, a decision was made to move the next full-scale trade fair to 2023. But everyone in the industry will be welcome to attend the new event ELFACK:TA at the Swedish Exhibition & Congress Centre on 3-4 May 2022.
Patrik Andersson and his EL colleagues have been involved in the industry talks where the concept was designed – and he has high expectations for what will happen:
– Svenska Mässan has been very responsive to the industry's views and found a concept that is not full-scale, but a mid-year investment with important and inspiring content.
He especially values the new focus on knowledge exchange.
– During the pandemic it was difficult to meet up and take part in training, so there is a need. We're also looking forward to being able to open up and meet customers in a slightly easier way. I think everyone wins if we return to meeting face-to-face in this way, as a starting point for a full-scale and strong ELFACK 2023, says Patrik Andersson.
Anna Jarnö, business manager at the Swedish Exhibition & Congress Centre, stated early on that many stakeholders wanted to meet in 2022, while there was a stated desire not to arrange two full-scale ELFACK years in a row.
– The idea of a mid-year event came from the industry and working together, we have  worked out a completely new approach in a short time. It feels fantastic!
The result was to give it the witty name ELFACK:TA [fakta is Swedish for facts]. A meeting place with a focus on facts and skills transfer. Several open theatres and training by qualified lecturers and experts are planned.
– We have noticed that there is a desire for further training in the industry, not least in connection with new smart technology and changes in regulations. If we can also contribute to the work of accelerating the transition in electricity and energy, this is completely in line with the vision for ELFACK, says Anna Jarnö.
ELFACK:TA is primarily aimed at the regular visitors to ELFACK. If you are one of them, you now have a unique opportunity to influence the content! By clicking on the link below, you can take part in a survey where you can submit your own suggestions for the design of the lecture theatre programme.
– We would like to receive input from our visitors about what, more precisely, they are most interested in. The answers will to a large extent shape both the training and the content presented on the open theatres, confirms Anna Jarnö.
The theatre programme will be quality assured by a programme council, which consists of representatives from the industry. Companies will also be present at ELFACK:TA with their own experts, ready to provide information to visitors. That's to say, there will of course be an exhibition, albeit in a limited format, with around 150 companies represented.
The idea is that the participating companies will exhibit selected parts of their range that are closely linked to the theatre programme. Not least so that visitors will have the opportunity to take part in what's on offer and experience the new technology. Another important aspect will be the social activities in the form of communal breakfast and lunch, and evening get-togethers in the Swedish Exhibition & Congress Centre Gothia Towers premises.
– After the pandemic, there is a pent-up need to meet and build relationships in an effective setting. So there will be excellent opportunities to network and have fun at the same time! Our hope is that this will be a recurring mid-year activity in even years, says Anna Jarnö.
ELFACK: TA 2022 will finish at lunchtime on 4 May. The Power Electrification Summit (formerly the Power Circle Summit), which is aimed at decision-makers in the energy sector, is being organised in parallel.
Information about ELFACK and ELFACK:TA is updated continuously on elfack.com