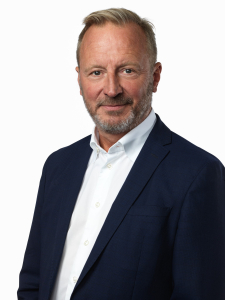 Producing your own electricity for your electric car is the new trend in self-sufficiency. Technological development is going at a furious pace and at the new ELFACK:TA, everyone has a golden opportunity to get updated.
– We are happy to share our knowledge, says Leif Hallén, CEO of Hager, who is investing heavily in the event.
Hager, a long-standing exhibitor at ELFACK, was the first company to sign up for the new knowledge-oriented interim activity, ELFACK:TA, 3–4 May 2022.
– We immediately felt that this was right, says Leif Hallén, CEO.
– For us, the knowledge issue is central, we have, among other things, arranged competence-enhancing activities for the industry where we share new knowledge. Therefore, the investment in ELFACK:TA fits us like a glove.
On its stand, Hager will focus on the rapid development of microgrids and new ways of producing and distributing your own electricity, for example from photovoltaic systems, in a home environment.
– This is becoming an increasingly important issue, both for homeowners and managers of apartment buildings. There is no doubt that we will use much more electricity in the future, including in the automotive market. There is still a lot to learn here, for example about storage for home use, says Leif.
At ELFACK:TA, Hager will present a new series of electric car chargers that meet the high demands on installation and safety when more and more people "refuel" at home. A feature is that those who have a photovoltaic system in the home can sell surplus electricity during the day and buy it back at night, when the electric car is charged. A smart technology, which is attracting more and more people.
But it is not necessarily a good deal, warns Leif Hallén:
– We can expect power tariffs to follow demand. This means that the kilowatt price of the electricity you sell during the day can be significantly lower than the price of the electricity you buy in the evening, when everyone wants to charge their car.
In short: even though you are self-sufficient, you will have to pay a "penalty fee" if you maximise your consumption of electricity at times when the sun is not shining.
But there are other smart solutions. For example, you can temporarily store the electricity you produce during the day in a larger home-based battery, which you can then use to charge the car at night. In this way, becoming both your own electricity producer and distributor is a growing trend, according to Leif.
– We're seeing rapid development in this area. We see a number of solutions for the home electrification of the future. The industry needs to learn more about them. This is part of our portfolio. We are really at the forefront here.
He points to controls and support for increased safety with, among other things, personal protection devices, miniature circuit breakers and current-operated circuit breakers. But also new digital solutions and cloud services to measure and adapt electricity consumption.
– Basically, it is about creating a sustainable development, with changed behaviours and smarter technology in everyday life.
At ELFACK:TA, Hager will be engaging primarily with electrical installers, consultants and property owners.
– We want to show and teach what is happening in our highly technology-intensive industry. This intensity means that you always have to stay up to date.
– The pandemic has meant that many have not taken part in everything new. We now see a great need to acquire the knowledge needed to cope with the transition to a more sustainable society. In this, I think ELFACK:TA can play an important role.
---
ELFACK:TA has been developed in collaboration with the industry as a new mid-year activity for ELFACK. ELFACK:TA takes place in even years and focuses on knowledge and competence transfer in the electricity and energy industry. Seminars and training are arranged on several different stages. Industry experts will be onsite and about 150 suppliers are involved. The premiere takes place 3-4 May 2022 at the Swedish Exhibition & Congress Centre, Gothenburg More information at elfack.com