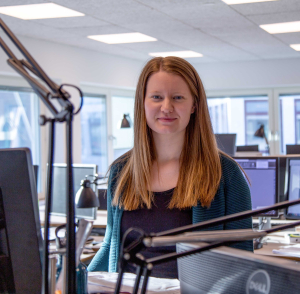 Upward-facing lighting on a facade can disrupt the birds' rhythm of life.
Now the lighting designer Veera Kokko wants to see a many-sided dialogue about how lighting of properties can benefit both ecology and climate.
– I hope to hear some wise opinions at ELFACK:TA, she says.
Issues around lighting will be an important feature of ELFACK:TA in May 2022. One such highly topical issue concerns the environment and the increasingly important role of light in environmental certifications for properties, especially of new construction projects.
– Previously, lighting was mostly about interiors. Now there is a greater focus on exteriors, says Veera Kokko, lighting designer at Liljewall Arkitekter.
– It is partly about products meeting certain requirements. And partly about how light is designed in exterior settings, with regard to the environment and ecology.
An important sustainability requirement is that the light is used energy-efficiently and goes where you want it. In the case of exterior lighting, the environmental certification assesses, for example, light pollution, lighting level and how the light is directed.
– It is important to understand how light affects the surroundings and, based on the location, to choose the right luminaire and control to create an ecologically and socially sustainable place, Veera says.
We know that exterior lighting affects nocturnal animals.
– By working with a control system enabling us to dim the luminaires at night, we can reduce this impact. The same applies to light directed at forest areas and watercourses, where it can affect frogs and fish.
– As a lighting designer, I have to look at the whole picture. If my assignment is to light facade A, I must also take into account how the neighbouring facades B and C are affected.
Clients, builders and companies, often have clear goals about what certification they want to achieve.
– When it comes to exteriors, it is common to want to over-illuminate the place, using more light than you should. Our role as experts, as lighting designers and architects, is often to ask questions. Is there anything we can do better, or in another way?
Veera states that part of the light designer's job is to inform the customers about developments in the field of light.
– But there are also interesting conversations between lighting designers and electrical and technology consultants, for example about lighting control. We depend on each other.
She is looking forward to her visit to ELFACK:TA in May and having a dialogue about lighting issues with all the parties and professional groups who are involved in construction.
– It would be fantastic if ELFACK:TA could become a platform where we can share experiences, from different perspectives. And learn from each other.
She says that in architects' offices there is a lot of talk about circularity and climate neutrality. Where do our materials come from, what are their environmental impacts and how can we reuse them?
– This is something I feel needs to be discussed more in the lighting industry. For example, from the luminaire manufacturers' perspective. What is the environmental impact of our luminaire, can we recycle the components and are they replaceable?
– This is something we don't talk about much today, in my experience. But we should do. Not least to be able to make reliable analyses of the consequences for the climate.
---
ELFACK:TA has been developed in collaboration with the industry as a new mid-year activity for ELFACK. ELFACK:TA takes place in even years and focuses on knowledge and competence transfer in the electricity and energy industry. Seminars and training are arranged on several different stages. Industry experts will be onsite and about 150 suppliers are involved. The premiere takes place 3-4 May 2022 at the Swedish Exhibition & Congress Centre, Gothenburg More information at elfack.com