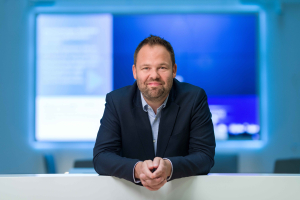 To get more attractive properties and lower construction costs, more digital initiatives are required, especially digital twins. Johan Granton from the industry association Digitala Fastigheter [Digital Property] hopes to meet many interested parties at ELFACK:TA.
– This is a development area with enormous potential, he says.
Digitala Fastigheter, which was established in 2019, joins ELFACK:TA 2022 as a partner. According to chair Johan Granton, this is because both the event and the industry association have the same perspective:
– What caught our attention is that from the start, ELFACK:TA takes knowledge and competence as its perspective, he says. This is in line with Digitala Fastigheter's vision. Our starting point is to create value through sustainable, smart and cost-effective buildings with the help of the technology that is already available today.
He illustrates the point that sustainability is a significant factor with a simple statistic that may come as a surprise to many: 40 per cent of all energy consumption in the world takes place in buildings.
Johan Granton is the head of Siemens' building division in Sweden, focusing on smart infrastructure. He believes that construction costs would be drastically reduced if digital technology were fully utilised with effective controls.
– Our industry association wants to refine and improve the value of properties with structured digital information. This applies from the construction process to using the potential that exists, and developing the interaction between property and users.
– As a user or tenant, you should simply get a better experience, regardless of whether we are talking about homes, public facilities or offices.
Today, there are a variety of solutions to choose from. They include digital control of the indoor climate and systems to control lighting, lifts, locks, and alarms, as well as digital rental notices, invoicing, administration and food delivery systems. A building can have hundreds of different digital systems and products.
– That is not the problem, there are almost too many to choose from. However, there is no standard for data. And that's the problem, Johan says.
– For example, if you install an elevator system and a lighting system from two different suppliers, it is not at all certain that they can "talk" to each other. This makes it difficult to create positive synergies.
Another major problem is that the digitalisation of a new property often comes in too late in the construction process, which makes the installations costly.
– If it comes in earlier, you get more value for the same money. So it's just as much a mental journey; value creation must take place before you start building.
Therefore, Johan emphasises the importance of starting by building digital twins, i.e., making digital models of planned properties.
– Then you can simulate all flows, analyse data and make "mistakes" there, rather than in the finished building. It costs infinitely less to make mistakes in a digital model, it's just a matter of trying different things.
On a ten-point scale, where 10 is the ideal state where well-thought-out digital twins precede the construction process, Johan today gives the Swedish construction industry a 3.
The positive thing is that a lot has happened in recent years; many steps are being taken in the right direction and the pace is accelerating. More and more digital twins are seeing the light of day.
At ELFACK:TA, Digitala Fastigheter will, among other things, lead a panel debate and network with exhibitors and visitors.
– We are a young association. Today we have about ten member companies, and of course we want to have more. You don't have to be a real estate company. Everyone who is involved with property is welcome.
– Above all, we want to share knowledge. Everyone who is interested in ELFACK:TA should want to learn a little more about these issues. And hopefully come to the conclusion that this is something they want to be a part of and contribute to.
---
ELFACK:TA has been developed in collaboration with the industry as a new mid-year activity for ELFACK. ELFACK:TA takes place in even years and focuses on knowledge and competence transfer in the electricity and energy industry. Seminars and training are arranged on several different stages. Industry experts will be onsite and about 150 suppliers are involved. The premiere takes place 3-4 May 2022 at the Swedish Exhibition & Congress Centre, Gothenburg More information at elfack.com.