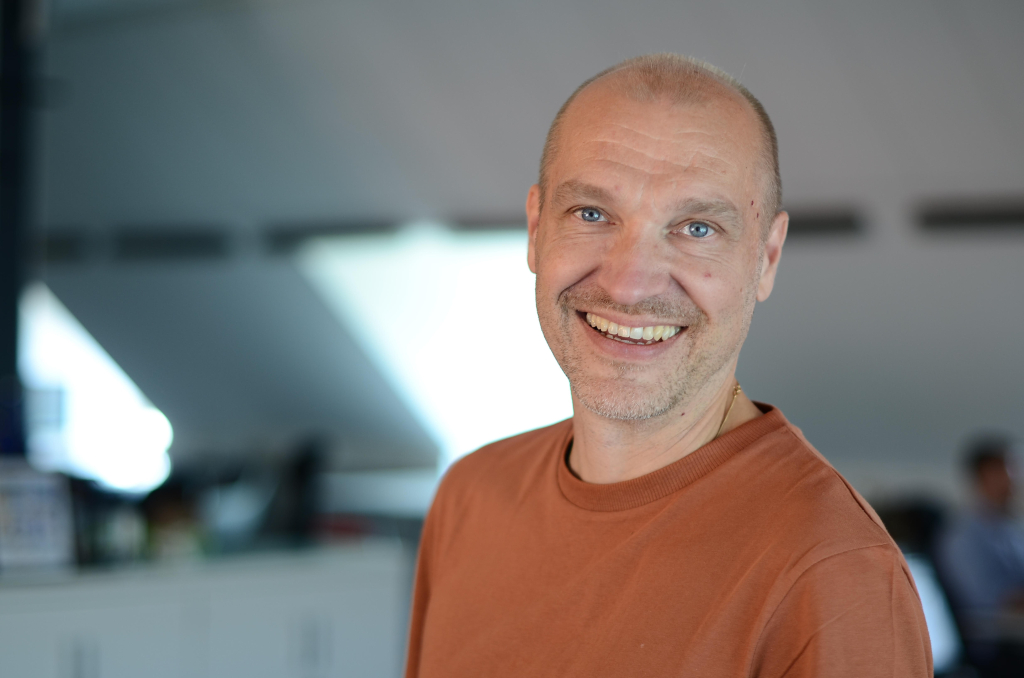 Samuel Strömgren, Energy Competence Center.
Accelerating electrification is not just a giant technological shift. It's an equally big skills shift. But where will the skills come from? Where are all the brains and hands?
– It is high time to address that question now. We don't have time to wait, says Samuel Strömgren from the Energy Competence Center.
Although everyone seems to agree that electricity needs will increase dramatically, perhaps doubling in a few decades, few talk about the growing skills gap. An exception is the Energy Competence Center (ECC) in Västerås, one of Europe's leading energy competence hubs, where research-intensive global energy companies, academia and public sector organisations work together.
Samuel Strömgren, project manager at the ECC, is puzzled by the lack of a strategy at national level.
– There is no government agency or department that has taken on the leadership role, he says. The risk is that the issue will be bounced between the Ministry of Labour, the Ministry of Education and the Ministry for Enterprise, and the consequence will be that everyone has to do everything. The fear I have is: will we have the skills in time?
He compares this to the business world, where many employers are beginning to understand the seriousness of the issue and where new collaborations are emerging based on the skills issue, for example in the ECC, Electrification HUB and EffektForum in Västmanland.
– Companies are realising that they have to cover their own needs, he notes. There is also some regional responsibility for skills supply issues, there is a risk of becoming project-oriented. Long-term, strategic work suffers. Moreover, it looks very different from region to region.
Samuel believes that a lot of this is due to the challenges of the education system.
– For example, primary school pupils should have more opportunities to learn about professions, industries and the future labour market. If we are to attract people to the electricity sector, to high voltage and low voltage, we must work systematically and strategically. It may take 20 actions to persuade a girl who is currently ten years old to become interested in electricity, energy and electrical engineering.
He believes that young people do not make that choice independently.
– It doesn't work that way. Looking back 15-20 years there has been a constant battle for skills on the technology side.
From a gender perspective, this is particularly clear, he says.
– For girls, this is a hidden labour market. Interest doesn't come automatically; we have to work with attraction management. We need to reach them with a hand from the future and say: come this way, go that way.
Samuel sees a skills gap ahead, in relation to the forecast that the country's electricity use is expected to increase from today's 150 TWh to nearly 300 TWh.
– In a way, the gap already exists today. It's extremely difficult to find an experienced electrical engineer who can step in and work with high voltage.
He points to the investment plan of SEK 87 billion put forward by Svenska Kraftnät.
– This also means that someone has to be out there screwing in all these power lines – and there have to be people to do that.
The skills shortage will be felt in all sectors – power supply, distribution, technology solutions, installation – but as electrification accelerates, he is anxious:
– Just look at the new industrialisation that electrification is generating. Northvolt, for example, wants to employ 30,000 people in its group. Scania is setting up its own battery manufacturing plant. And as fast as it goes, the education system is not keeping up.
The electrification of the automotive sector and large parts of heavy industry, steelworks and mines, also requires specialised skills.
– Electrical engineering skills are needed, with different specialisations, at many levels.
Samuel Strömgren believes that it is high time to take the issue seriously:
– I really hope that events like ELFACK and ELFACK:TA, where we come together for panel discussions with politicians, business leaders and other central figures, will make an important contribution.
---
ELFACK, the Nordic region's largest trade fair and meeting place for the electricity and energy industry, will be held at the Swedish Exhibition & Congress Centre in Gothenburg on 9-12 May 2023. ELFACK:TA will return in 2024 and every two years thereafter. You cand find more information about both events at elfack.com.