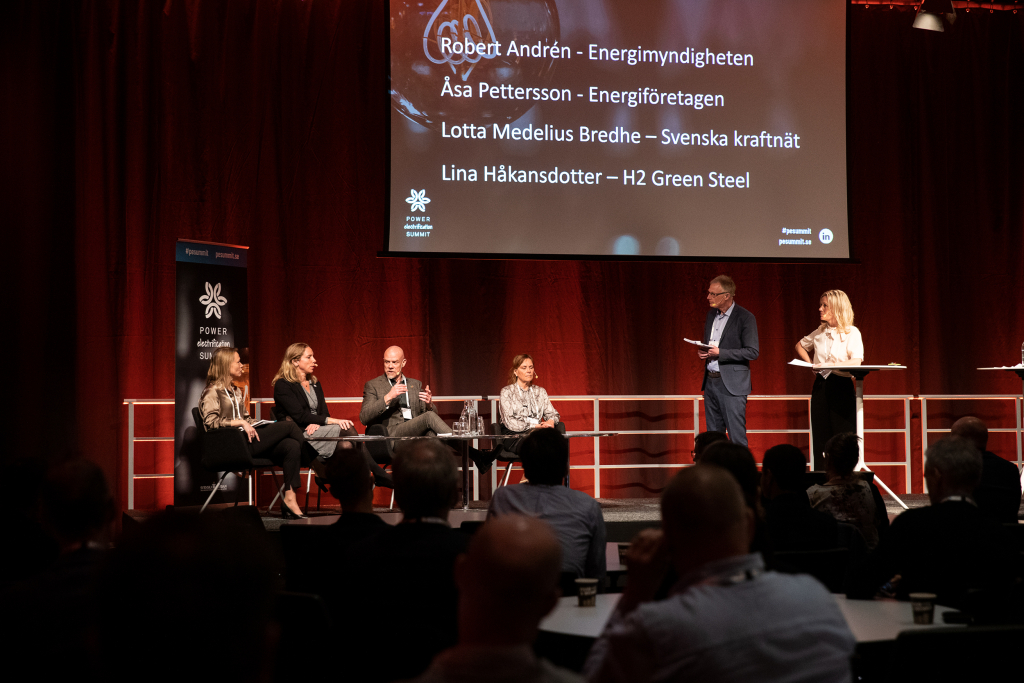 The energy transition is taking place at breakneck speed. And the consensus on what needs to be done is broader than ever. These are the conclusions that can be drawn from this year's Power Electrification Summit. Several participants said that Sweden now has great opportunities to take a global leadership position.
On Tuesday 3 May, the Power Electrification Summit was held at the Swedish Exhibition & Congress Centre, with participants from a wide range of companies and organisations in attendance.
Minister of Energy Khashayar Farmanbar gave the opening speech and some 20 speakers from industry, academia and government took part. The keynote speaker was Brian Motherway, the IEA's expert on energy efficiency.
Robert Andrén, Director General of the Swedish Energy Agency, participated in the panel discussion on Sweden's opportunity to become the world's first fossil-free welfare state.
– What impressed me most is that several stakeholders are no longer simply highlighting the need for new technology to make the transition, but are increasingly stressing the importance of changing behaviours and attitudes: that we need to get people on board, he says.
– We saw several examples of this at the conference. It underlines the importance of talking and also listening to each other. That surprised me in a positive way.
He is thinking, for example, of the "first mover" initiatives, focused on zero emissions.
– I was also pleased that there are so many of us representing different perspectives and interests, yet delivering the same message about the opportunities and benefits of transition. Not only to address climate change, but also for positive social and economic development in and for Sweden.
To claim that Sweden has already taken on the global leadership role in electrification and energy transition is to go too far, says Robert Andrén:
– But I believe that we now have every opportunity to take that role, if we want to, and make the right decisions here and now.
With the impressions from the Power Electrification Summit, his optimism has increased.
– Yes, especially from the point of view that more actors are initiating and speaking the same "language". I think this is a prerequisite for transforming energy systems at all levels.
Tomas Wall, a consultant with Desiderate AB, was one of two moderators during the day.
– Entrepreneurs, innovators, energy companies, authorities and politicians came together in this arena in a remarkable movement. After this day, we can declare that the Swedish energy transition is moving forward at a rapid pace, he says.
He notes that everyone seems to share the goal of a fossil-free Sweden. But he also saw signs of increased collaboration when problems arise along the way.
– I feel that there is a genuine willingness from everyone to solve the problems that arise when we use new technologies and when we build new systems. No mud-slinging, in other words. Which obviously is a source of hope.
Karin Bodén, Head of Public Affairs at Jämtkraft, was the other moderator:
– What is unique this year is the consensus that we need to focus more on getting people involved in the energy transition. And we need to make it possible for everyone to be involved. In the past, the focus has been very much on technology, she notes.
– Now everyone probably realises that the "people-centred approach", as Brian Motherway spoke about, is absolutely crucial on the road to a fossil-free society.
If Sweden is to take the global lead, innovation is a key issue.
– For example, Annika Ramsköld from Vattenfall told us that we are very good at involving all players in the value chain when we innovate. This is a structural advantage that can help Sweden achieve a leading position in the energy transition.
Anna Jarnö of the Swedish Exhibition & Congress Centre is the Business Manager for the Power Electrification Summit.
– After having to hold the conference digitally for two years in a row, the whole package with speakers, panel discussions and interactivity with the audience was very successful, she concludes.
As in previous years, a networking dinner took place on the eve of the conference.
– Participants were asked to reflect on this year's theme – Is technology solving the energy transition or does society need to get its act together? – which led to interesting discussions and a really good start.
The conference concluded with round-table discussions in small groups and a summary of insights from the day by the Swedish Energy Agency. The Power Electrification Summit will take place again in May 2023.
---
Want to find out more?
Contact Anna Jarnö, Business Manager, Power Electrification Summit, the Swedish Exhibition & Congress Centre Gothia Towers.
Tel 031-708 80 85.
Read more at: www.pesummit.se.
---
 The Power Electrification Summit is an annual conference for thought-leaders, focused on the energy needs of the circular society of the future. It is where decision-makers, innovators, entrepreneurs and strategists meet to share and gather knowledge and insights. The conference focuses on concrete examples, inspiration, collaboration, disruptive forces and smart and sustainable technology. In a challenging and changing time, the Power Electrification Summit puts its audience and participants in a better competitive position to prepare today to act in the competitive market of tomorrow. The organiser is the Swedish Exhibition & Congress Centre, together with leading partners.