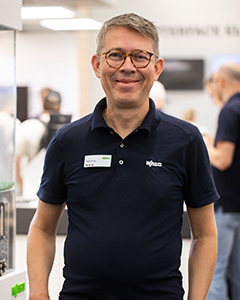 What trends are dominating the electricity industry right now? If you ask Niklas Persson, Sales Manager at Wago, the answer is simple: energy efficiency.
– Everyone wants to know what technology is available in this area, because with today's prices, no one is interested in burning the midnight oil anymore.
When Wago was founded in Germany in 1951, it was to manufacture couplings using spring connection technology.
– Unlike "ordinary" connectors, our couplings are not nearly as sensitive to vibrations or temperature differences, which gives us a big presence on trains and ships, for example.
But Wago's couplings are also fast-working, which has made them popular even among installers working in the property sector.
– Thirty years ago, we started making terminal blocks, and when customers started asking for more functions on these devices, it was not a big step away from getting into building automation.
Huge interest in automation
Today, automation is one of Wago's largest business areas, and at this year's Elfack, visitors were extremely interested in learning more about the possibilities of automating buildings' systems, and thus making their energy use more efficient.
– Energy efficiency is the single biggest trend we see in the market now, across all categories. For many years, we have all been spoilt by low energy prices and there have not been so many people interested in investing in new technology. But now things are different.
Last year's energy crisis and resulting high energy prices have made the energy issue palpable for property owners, and the willingness to invest in new technology to measure, control and optimise a property's heating, ventilation and electricity use is at an all-time high.
– Because it has not been a priority for so long, many properties have relatively old control systems. Many of them are not even connected, and now property owners want to see what they can replace these old systems with.
Technology can do more than most people think
For Wago's part, it is therefore now very much about educating customers about the technical possibilities that actually exist today, and the impact these can have.
– Not everyone is fully up to date on what today's technology can do, but I would say that curiosity is high, and many people are impressed by what can actually be achieved.
Biggest challenge: education
The biggest challenge in energy efficiency is therefore not the technology, but reaching out to all the potential customers who are out there and who do not yet have the necessary knowledge. This is why Wago is working hard to investigate which routes they should use to reach all the customers and partners they want to work with.
– We are experimenting a lot with different ways to reach customers now. Should you focus on social media, physical meetings, paper mailings or digital? We are testing widely, and I personally believe that the answer is that we must test different channels depending on what customers prefer.
One of the channels through which Wago chose to communicate was Elfack 2023, where they had a 110 square metre stand in the middle of the exhibition floor.
– It is very important for us to be here, because I would say that there are few things that beat the personal meetings that a trade fair entails, according to Niklas Persson.