Sweden's smartest district is being built in Örebro. Tamarinden will be almost self-sufficient in energy, with no equivalent residential district in Sweden or indeed the rest of the world. Örebro District Council, Örebro Municipal Housing and E.ON are working together to create the conditions for Tamarinden to  reduce, produce, store and share energy.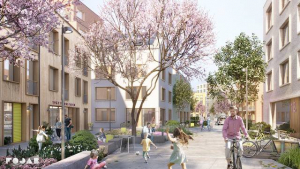 – When we got the assignment, we brought together Örebro Municipal Housing and E.ON. So we started thinking together. There are five aspects to the Tamarinden project: life between houses, sustainable mobility, innovative, inviting and sustainable architecture, green farm environments and a smart city, says Jan Johansson, Project Manager Smart City, City Building Örebro Municipality.
For Tamarinden, the objective is to create a new and smart residential area. All of the project partners are collaborating to make Tamarinden as climate-smart, and at the same time as attractive to potential residents, as possible.
The unique thing about Tamarinden, which sets it apart from other residential areas and building projects, is the way in which the district will be supplied with energy.
– Tamarinden is the first district in Sweden where houses are built smart and above all where they become smarter together. For real. Areas will have low consumption and energy will also be produced in the district itself. Investments have been made in energy storage in batteries, but above all the houses will share energy between each other. And this has never been done before, says Jonas Tannerstad, Head of Electricity & Automation, Örebro Municipal Housing.
– In addition to Tamarinden becoming energy efficient in itself, we will also be able to help Svenska Kraftnät, the Swedish transmission operator. The problem of capacity shortages in power grids is growing. Tamarinden will ease the pressure, steering away demand by being smart together or by getting electricity from the batteries, says Jan Johansson.
Tamarinden is expected to be an example of how in future Sweden will be able to plan and implement community construction projects that are as climate-smart as possible. It is also expected to be a good example of how climate goals do not have to stand in the way of economic benefits.
– Benefits for the climate should not be seen as coming at the expense of the economy. Our work in Örebro Municipal Housing has really shown that. Since 2005, we have halved our electricity consumption and at the same time reduced operating costs by SEK 85 million per year and increased property values by SEK 1.6 billion. We have therefore shown how it worked in individual neighbourhoods and the next step is a district – Tamarinden. After that, taking the next step to entire cities is not far off, says Jonas Tannerstad.
Work like the one around Tamarinden will be necessary if Sweden is to achieve its climate goals. New innovations, solutions and technologies will need to be applied to move forward. Elfack, together with Power Circle Summit and Switch, will take place at the Swedish Exhibition & Congress Centre in Gothenburg on 4-7 May 2021. Together, they are creating an event for inspiration and knowledge exchange around new solutions for a more climate-smart future.
More information at elfack.com
Article from Ny Teknik »