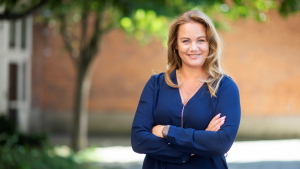 How will Sweden succeed in reducing the transport sector's emissions by 70 percent by 2030? The ball is in the Electrification Commission's court, and it is getting to work.
– We are getting lots of input and we're feeling a great commitment, says Jenny Larsson, a member of the Commission, who will tell more at SWITCH.
In October of last year, the government appointed the Electrification Commission, with Infrastructure Minister Tomas Eneroth as Chairman. Several figures in business were attached to the Commission. One of them is Jenny Larsson, CEO of Hitachi ABB Power Grids, who is taking part in SWITCH on 5 May and starts the afternoon session, "The transport sector in transition".
– At SWITCH, I expect to be able to say something about the priorities assigned to the work and some of the steps we see as important to take right now.
– I think it is interesting for participants at SWITCH, especially as many actors are involved and contributing, or want to make a contribution to this work, she says.
Sweden's stated goal is to reduce greenhouse gas emissions from domestic transport by 70%, compared with 2010 emissions, by 2030. The Commission has had two years to draw conclusions and formulate proposals for an action plan to speed up the work on electrification.
The biggest challenge is without a doubt the need for energy. Various calculations show that current electricity consumption of 130–140 TWh may have doubled by 2040 and beyond. Maybe more than that. The need for change in both industry and the transport sector is driving developments. And time is short.
– Precisely. That's why the work must be accelerated. Sufficient capacity in the electricity network is a key prerequisite for our success. We definitely need to expand and strengthen electricity networks, Jenny Larsson says.
But this expansion is not the only solution for reducing future power demand. There is also potential for innovative solutions to optimise the networks, Jenny claims:
– I work in a technology and technical solutions company myself and know that there are many smart solutions ahead. Optimising the electricity networks, using them more efficiently, would facilitate the transition.
It is also about choosing smartly, finding standardisations and business models that can facilitate the electrification of the transport sector.
– The transition is also important from a competitiveness point of view. If we develop green technology, we can export it, Jenny says.
– We are in the process of electrification in Sweden. Meanwhile, some other countries are further advanced than us in some areas. But many are where we are, or a little further behind.
Environmental protection is a vital part of the Electrification Commission's mission.
– It is important, not least from a standardisation point of view, she emphasises.
– A truck driving on an electric road in Sweden must be able to continue down to Denmark and Germany. This means we must have common standards. The same applies to the stationary charging infrastructure.
In Germany, major investments are being made in hydrogen-powered heavy goods transport, something that the Electrification Commission is following with interest.
– Absolutely. Some routes may be better suited for hydrogen-powered freight traffic in Sweden as well, that is one of the things we are looking at.
At SWITCH, Jenny Larsson hopes to be able to tell us about how the work is progressing. It is being carried out in working groups looking at the electrification of major roads and important routes for industry, regional electrification pilots and construction projects as well as shipping and aviation. She is feeling a strong tailwind and great commitment from various quarters.
– Electrification of the transport sector is a very hot topic, both in academia and business. Small, medium and large players are doing studies, developing products, looking at systems, and developing very exciting technology and solutions.
The Commission has been contacted by many who can and want to be part of the transition. Jenny Larsson welcomes the initiatives:
– That's what's so cool, there are so many who are willing to help to make this happen.
She hopes that the commitment, the discussion continues at SWITCH.
– SWITCH is a very good meeting place to bring out these issues, I think. Especially as the platform managed to establish itself before the pandemic, so many people know about it. Now you can build on it as a digital meeting place.
– Above all, I value the fact that the programme is raising these hot topics for the industry in a strategic and visionary way. I am looking forward to SWITCH!
Welcome to the "arena of the future" for the electricity and energy sectors! SWITCH is a forward-looking meeting place focused on adjustment and change driven by technology shifts and digital services, where new and established companies can meet the needs of a future sustainable society.
SWITCH is the catalyst for implementing perspectives and strategies in the electricity and energy sectors. The event is being organised digitally by the Swedish Exhibition & Congress Centre and will take place on 5 May, as a prelude to ELFACK 2022. You can find everything about the programme and register at https://elfack.com/switch/.